Year 12 Honour Roll Merchandise Available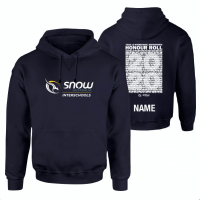 In collaboration with Snow Australia, The Regatta Shop are excited to offer a range of garments to recognise the contribution to Interschools of students in Year 12 2020. To celebrate their impact on the Interschools Snowsports community through their years of participation, each garment available for purchase features the full list of all 2020 Year 12 students from across Australia.
General Information
The Regatta Shop will cover all shipping costs for Snow Australia Year 12 Interschools Honour Roll Merchandise.
Orders will be shipped within 3 business days of ordering. Due to the impact on delivery services through CV19, shipping times may be longer than normal.
Garment Sizing
There is sizing information on each garment's page. Please measure and check your sizing before purchase, especially for garments with individual names as we are unable to exchange these for another size.
For upper body garments sizing refers to the half chest measurement rather than a bust measurement. The half chest measurement is measured across the chest of the garment and is taken an inch below the armpits. For correct sizing it's best to get a similar style garment that fits, lay it on the table and measure the half chest for comparison to each individual garment's size chart.
Please note as above that there will be no exchange for incorrectly sized garments with Individual name printing.
If you need sizing assistance, please contact The Regatta Shop for help - https://www.theregattashop.com.au/pages/contact-us.